Description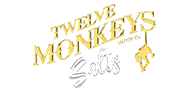 A Primate with a sweet tooth; Kanzi has a taste for only the best fruity flavours.
This fusion of strawberries, watermelonand a hint of kiwi is sure to please the most discerning fruit connoisseur. Kanzi is a mouthwatering fruit concoction that is sure to salivate any palate.
Payment & Security
Your payment information is processed securely. We do not store credit card details nor have access to your credit card information.