Description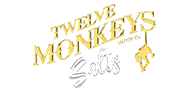 Twelve Monkeys have crafted the perfect balance of exotic tropical fruits carefully combined to make one of the most enjoyable juice blends in the world.
This pleasant, but not overpowering, tropical fruit concoction is the perfect addition for any beach vacation enthusiast.
Payment & Security
Your payment information is processed securely. We do not store credit card details nor have access to your credit card information.